Nothing says "I care about my customers and my community" quite like a face-to-face event.
Having hosted over 150 events around the world - and with experience in building a community of over 30,000 software developers - we know in-person events are an efficient strategy to differentiate your brand, grow your community, and build loyalty with your customers.
Are events easy? No. They require an incredible amount of strategic planning, organization, and multi-tasking from ideation to day-of execution and post event wrap-up. Keep your team focused on their day job and let us be an extension of your team for a smooth ride on all-things event related.
End-to-End
We have event planning down to a science. We've got processes in place to optimize efficiencies, perfect the marketing strategy, and achieve your event goals. We handle it all:
Strategic Planning

Branding & Messaging

Marketing & Promotion

Agenda & Programming

Community Building

Content Creation

Logistical Coordination
What we've done
Here's a sneak-peek at a few events we've done, ranging from intimate Design Thinking Workshops, to hackathons, to developer conferences, to massive industry parties.
We thrive off of the energy, innovation, and creativity of hackathons. We've hosted many hacks, including Ford Developer Program and SmartDeviceLink Consortium (SDLC) annual hackathon the last two years in a row.
We've hosted numerous meetups welcoming up to 120 guests with partners ranging from Visa, Jaguar LandRover, to Amazon Appstore and more.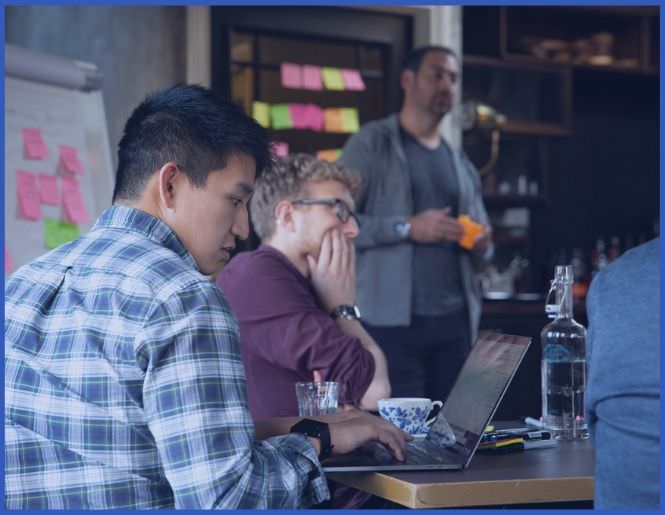 Design Thinking Workshops
Teamwork makes the dreamwork. We've hosted many Design Thinking Workshops for companies looking to encourage development, product, and marketing teams to innovate collaboratively.
Parties (especially during large industry conferences) are an ideal opportunity to network and impress current and potential clients. We've hosted dozens of parties, our largest being 1,200+ attendee parties at the W Hotel Barcelona during Mobile World Congress.
Half or full-day conferences are an efficient way to provide value to your community and customers while pitching products and supporting partners. We've hosted a variety of developer conferences from connected car to mobile app focused conferences.